I finally got around to making one of the Lisette pattern dresses.
Yesterday I felt like wearing something blue to work today, and fortunately I had a blue fabric in my stash so off I went. Call me crazy if you will, for starting a dress after work, I certainly called myself all sorts of names when I woke up this morning at 7am. When I say "woke up", i mean my mind was concious, my body was alert, but my eyelids would'nt stop their lovefest with each other. My eyes just wouldn't open. I was soooo sleepy….and I still had not finished the dress. I did the hem this morning, opting to use bias binding on the hem as i thought it would be faster than pressing and folding and doing whatever it is you have to do to have a presentable hem. In the end I liked the look I achieved with the biased bound hem.
I made view B. The dress is not really complicated, but the zip was another matter. Normally, zip insertions at the back are pretty straightforward (not always with me), because the seam is straight. A side seam however (which is what this dress has), is curvy, and that comes with its own fair share of issues. The pattern calls for a lapped zip, and after spending 1 hour trying to figure out how to press 1.3cm on the right seam and 1.5 on the left, and not having it come out the way its supposed to, I gave up and used the centred zip technique.
MEMO TO SELF: Dedicate a whole day (or weekend?) to the mastering of zips.
I did a little change with the skirt of the dress. Instead of using the skirt pattern provided, I used the skirt of my trusted Vogue 8232. I did that because I wanted to make sure it would fit, as I did not have enough time to fix things if something went wrong the Lisette skirt.
The armholes are finished with bias binding, as called for by the pattern instructions. Fortunately I had some blue bias binding at home, which I used.
Another thing I like about this pattern is the dart detail at the front. Its in the shape of a "Y". When I was doing the darts, I did the right side first, and without ironing it, made the left side, then I turned it over to appreciate my handwork…..SHOCK ATTACK….it looked horrible. Like the little fool I can be sometimes, I did not press the first dart after stitching it. So I unpicked the stitches, and did the required pressing. The second attempt was a lot easier. So if you are thinking of making this pattern, DO NOT forget to iron the first dart before sewing the second one. It will make your life so much easier.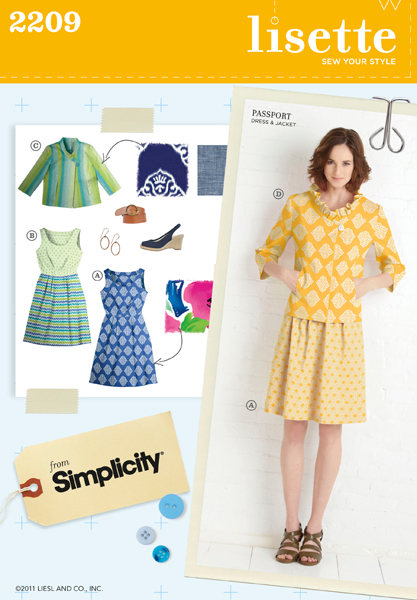 Take care, and have a lovely day.