So yes. I am not dead yet. Was too scared to kick the bucket. I am well and trully alive, and in a much better place. Thank you to all of you who had me in your thoughts and prayers, and who reached out to me via this blog and email. I am so grateful. I took alot of what you all said on board, and especially enjoyed putting some of them into practice ( eating chocolates anyone), and as a result, I think I have to come up with a new set of measurements for myself as my tops don't button up anymore.
It is also that day of the year. You know, the day that makes you reflect on your life, your purpose on earth and all. I turned 32 today. Nothing major. I got a new present. Two actually and two cheques. The presents are drying up me thinks.
First up, a subscription to Adobe Creative Cloud. Yeah yeah, you don't have to gasp so loud. I can hear you from here. Jealous? hehehe. A couple of you suggested I do something like start a new hobby to get me out of my dark maze. So, I decided on graphic and web design as the new thing I want to learn. Actually this might not come as a surprise to some of you who have been reading my blog for some time. I am always playing with the look of my blog, tweaking a code here or there, html here, CSS there. This subscription gives me access to Photoshop, Illustrator, Indesign, Dreamweaver and a host of other software by Adobe. Cool huh?
Then I also got the Wacom Bamboo tablet. Infact, I told Mr.Dibs his inability to procure the tablet would result in a strongly worded letter from my solicitors. Yes, people have filed for divorce for lesser slights. You would think Mr.Dibs would use this opportunity to free himself from the prison that is marriage to me but no. I have the tablet right here with me. I must surely be doing something right. Who would have thought. Surely all the burnt toasts and dodgy eggs would have put him off by now right? Apparently not.
I suppose this is the part where I have to state all the things I am grateful for this year and yadi yadi da. I won't go into that. I have decided not reflect on my life today. I have been doing that alot lately, and today I am just going to be as positive as I can manage at this point. I am going to a steakhouse tonight with Mr.Dibs and the rest of the little family. I have not eaten much all day because I intend to stuff my face silly tonight. I have decided whatever restaurant we go into MUST have Chocolate fudge cake on the menu else I am not eating there. I am going to have the main course and two deserts. No healthy entree for me today. Nope. I'll take a few pics tonight and show you what I had. Who knows, a couple of you might actually die of jealousy ( Rach I'm looking at you).
GIVEAWAY TIME
In honour of my birthday, I have a couple of things to give away.
1) Blog makeover
This includes a custom header, navigation bar, sidebar titles, social networking icons and any other thing you want inorder to achieve a coordinated look for your blog. This is limited to Blogger Blogs only. Sorry WordPress peeps.
2) Collete Patterns book
I have had this book for some time now, but I have not made anything from it. and I do not think I shall be making anything from it anytime soon, so it might as well find a new home somewhere else.
3) Sew U Home Stretch book
It is no secret that I love sewing with knits, and it is even less of a secret that people are scared of knits. This book provides a really good way of incorporating knits into your wardrobe.
4) Sewaholic Cordova Jacket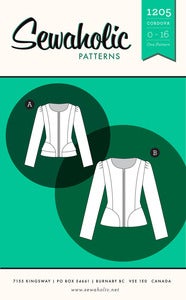 Who does not love Tasia's patterns? I have a couple of them though I have not made any yet. Laziness is the name of the game people. Hopefully that will change this year.
This giveaway will be for 1 week, and will end on Friday 7th December 2012 at Midnight GMT. I shall then pick out the names of the winners. If you are interested in any of the items, just leave your name and what you want in the comments section, if you want all of them, just mention that. I promise I won't call you a greedy so and so.
Enjoy your weekend, and please, do join me and have a glass of wine ( or bottle?) to celebrate my birthday.