Hi everyone, today is the last day of June, and also of MMJ. Its been an eventful month for me, and I thank God for everything that has happened this month. This is not a Me Made post, so no pics of me prancing about in handmade clothes. Today I want to share a little bit of what is making me happy and light.
So, whats this "THING"?????????????
Hat Making.!!
Royal connection……
I don't wear too many hats, but I love seeing hats on other people. I always look for Ascot pictures to see the wonderful creations. I put the Ascot hats into 3 groups. The good, the interesting and the WTF hats. lol….oops!!!
I've also been going through the websites of many milliners in London, and a few in the US. They are all so very inspirational, and I kept wishing I had the skills to make all those beautiful pieces. Admittedly not to the same standards, but close.
Food on my mind….
Gravity defying……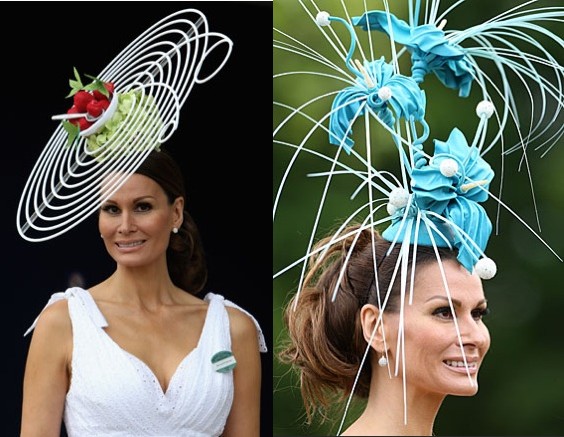 So, where does all this gushing about hats lead to?
Oh well, yours truly has enrolled on a hat making course at the Kensington and Chelsea college, starting september. It is a part time evening course, and classes will be held every Tuesday from 18:15 -21:15pm. Exciting non?
Plus, I am also starting hat making classes with Rose Cory in August. Now for those who don't know ( just like I did not until I started taking an active interest in millinery), Rose Cory used to make hats for the late Queen mother. How cool is that? Not only that, she's got some pretty amazing things said about her:
"Rose Cory the milliner's milliner"
Vogue
"…Rose Cory who seems to have taught every
couture milliner in the country"
Harpers & Queen
Well, I might certainly not be a couture milliner, but I hope by the time I have finished absorbing all that I can from Rose, I will be able to call myself a milliner, even if I only make hats for myself, and my family……umm my high school friends……. university friends?….definitely some of the wonderful people I have been blessed to meet through blogging……i think thats it…wait….my colleagues, and their wives??????, maybe not wives. Anyways, the point is,
I AM STARTING HAT MAKING COURSES WITH AN ESTABLISHMENT IN THE MILLINERY INDUSTRY!!!!!
I am so excited. When she called me yesterday to confirm the classes, I almost passed out at work. It took a lot to calm me down. I'm still on a high.
The good news for you my friends, is that I will be able to share some of the things I learn with you, and you could also make your own hats at home.