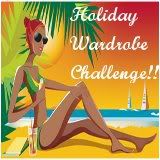 I think I hate myself. I keep complaining about the stress of an impending me made june and of me not having enough clothes and all, and here I am about to talk about another challenge.
I mentioned a couple of weeks ago that I was going to sunny Marjoca this summer. August to be exact, and that I was thinking of making my own wardrobe for that. So here I am today, declaring that
I, Dibs, of Dibs and the Machine, pledge to sew a holiday wardrobe for my 2 week vacation to Marjoca. For the duration of my holidays, I shall only wear clothes/accesories made by me!!
"Everything" excludes shoes and bras, and sunshades.
So there, I've gone and done this time haven't I.
I seem to relish the stress ( i know that sounds strange), but sewing for Me Made June has made me realise that with sewing, like many other aspects of my life, I thrive on deadlines. Knowing that deadlines are around the corner , makes me work harder. So, I think setting myself the challenge of sewing my holiday wardrobe, and declaring it publicly, will actually push me to sew.
Is there anyone going on holiday and resolving to sew their own holiday wardrobe?